Career Opportunities - Are you a storyteller?
Career Opportunities
@ Lumicel
This isn't just a chance to work on great content or tell stories. It's your opportunity to bring imagination to life.
At Lumicel, we work side by side to turn ideas into reality. Come see what we have to offer. Email your portfolio and resume to hiring@lumicel.net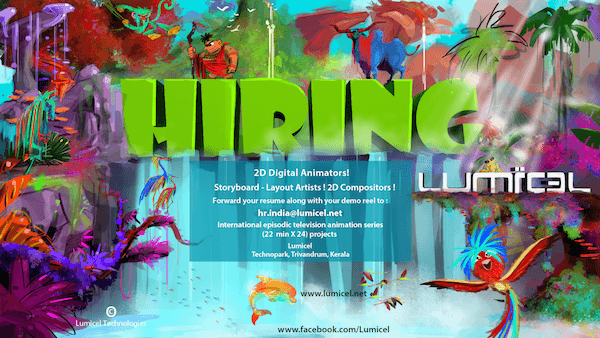 Immediate Hiring: Lumicel is hiring 2D Digital Animators, Background/BG Artists, Layout Artists, Compositors & Storyboard Artists
This opportunity is for motivated animators who is willing to push the envelope of what is possible in 2D digital animation. The animator will be able to effectively tell the story in a meaningful way through vivid and compelling character acting and movement. Should posses strong understanding of weight, locomotion, anatomy, dialogue, acting, appeal, and entertainment to bring the story to life. Successful candidate will be working in international episodic television animation series (22 min X 24) projects.
Multiple Positions:
Animation Directors (12+ years experience)
Lead Animators (10+ years experience)
Senior Animators (5-10 years experience)
Animators (1-5 years experience)
Animator Trainee/Interns (0-1 year experience)
BG & Layout Artists (2+ years experience)
2D Compositors (2+ years experience)
Storyboard Artist (2+ years experience)
Ideal candidate will possess:
Experience animating in a production environment;
A strong working knowledge of Flash or Toonboom;
Must have a strong sense of animation timing, posing, and weight
Strong critical thinking and problem solving skills.
Strong attention to detail.
Strong work ethic, communication skills and a good team player.
Location: Technopark, Trivandrum, Kerala, India
Hiring Process : Forward your resume along with your demo reel to hiring@lumicel.net
Please include the position you are applying in the email subject line.
Only selected candidates will be contacted. Selected candidates will undergo a time sensitive test to assess skill-set proficiency.
If you think you have what it takes to join a fast paced/deadline driven team & environment, we are looking forward to hearing from you.